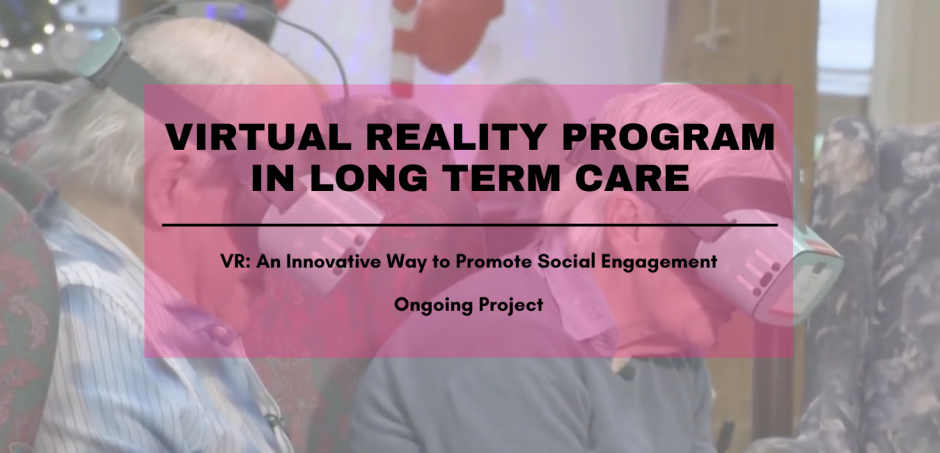 Virtual Reality Program in Long Term Care
---
With over 500,000 people living with dementia in Canada, this disease has a significant impact on residents living in long-term care (LTC) settings. Many residents experience anxiety, social isolation, and loneliness, and these experiences are further exacerbated by confinement and restrictions on family visitations due to COVID-19. Virtual Reality (VR) may be a promising intervention to improve mood and decrease agitation among residents for a better quality of life and provide much-needed respite for caregivers. In addition, VR can be an innovative way to promote social engagement.
The goal of our research is to implement VR in LTC settings and explore the thoughts, preferences, and needs of using AR/VR among residents and their families, and staff members. Findings from this study will provide a better understanding of the experiences and attitudes of using VR among residents, families, and staff. Our team will then identify any lessons learned in adopting AR/VR in LTC settings which will be useful for future research.
Poster
---
Youtube Links
---
Our Team
---
Principal Investigator: Dr. Lillian Hung
Lab members: Jim Mann, Mona Upreti, Alisha Tumar, Winnie Kan and David So
Project Co-leads: Sonia Hardern (Regional Practice Lead, Research and Knowledge Translation) & Joey Wong.
Questions? Email Joey Wong at joey.wong@ubc.ca
GlobalNews Interview:
---
Watch us on Global News (December 19th, 2022)!
VCHRI Feature:
---
Check out our feature on VCHRI! A special thanks to Isabella and Vesa for their contributions to our research.
Papers
---