---
What is the P.I.E.C.E.S. project?
---
This CIHR funded project applies implementation science methodology to examine the adoption of the P.I.E.C.E.S. program, by using virtual means to include family in team-based care planning. The goal of the P.I.E.C.E.S. program is to offer a systematic framework, along with practical tools, for conducting interdisciplinary assessment and developing care strategies to address behavioural challenges of older people living with dementia and other related complex illnesses.
Using qualitative methods, the study investigates factors that enable the adoption of the P.I.E.C.E.S. approach and the ways in which the new framework is taken up in clinical practice. Thematic analysis is employed to produce themes that describe the knowledge translation process; experiences of staff; and what works and how.
This study intends to contribute to understanding the complex process of knowledge translation in the context of community care settings and what helps engage staff in the knowledge translation processes to improve practice.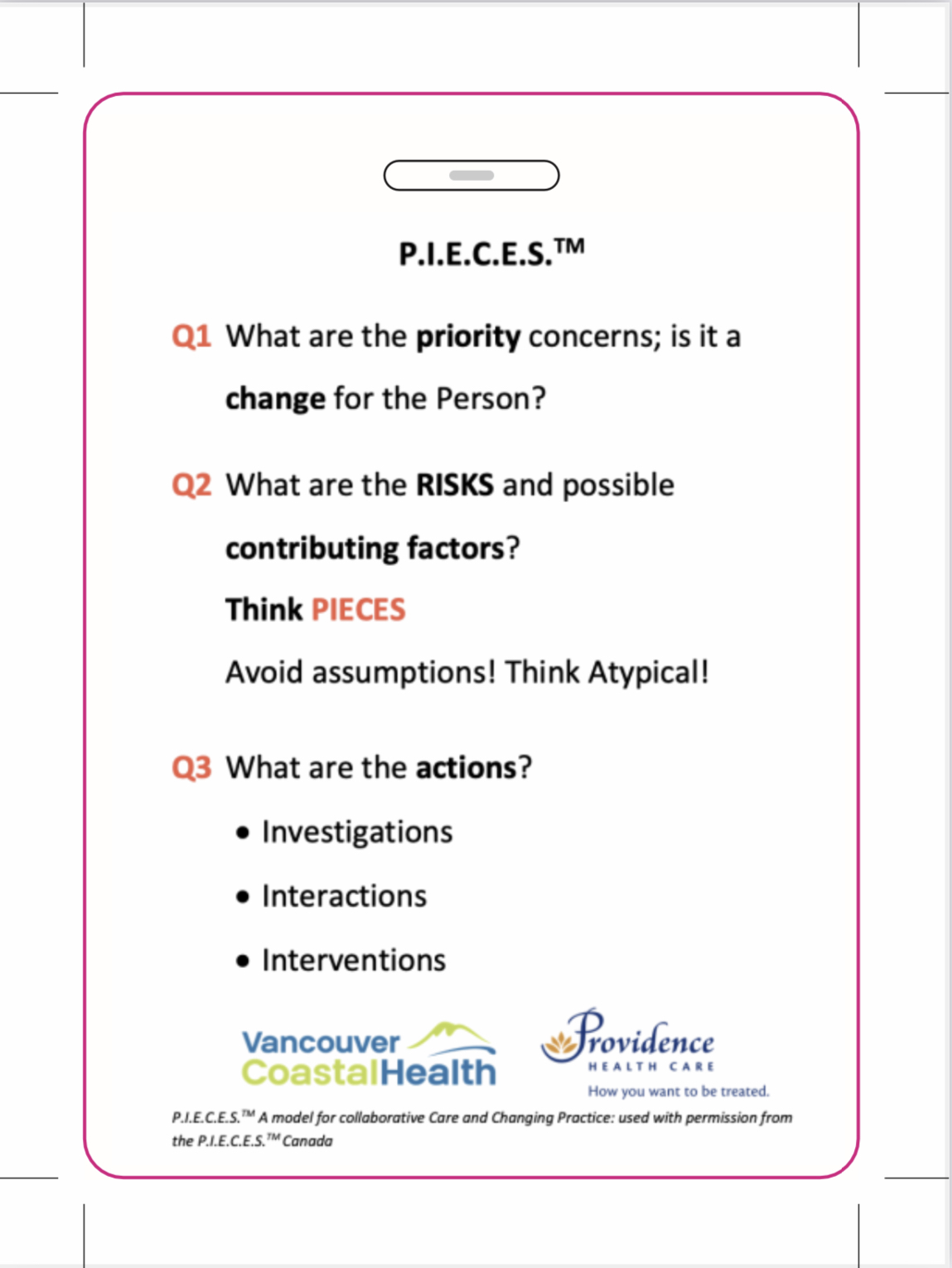 Our Team
---
Our Virtual P.I.E.C.E.S. project team works with patient partners as co-researchers, gaining their valuable input throughout the whole study.
Team Members: Denise Connelly, Lillian Hung, Harrison Gao, Marie-Lee Yous, Anna Garnett, Melissa Erin Hay, Nancy Snobelen and Samantha Salatino.
See our 'About Us' page to learn more about our lab members.
---
Virtual team-based care planning with older persons in formal care settings: a scoping review protocol
Harrison Gao, Marie-Lee Yous, Denise Connelly, Lillian Hung
Anna Garnett, Melissa Erin Hay, Nancy Snobelen, Samantha Salatino
The PI is Dr Denise Connelly